[an error occurred while processing this directive]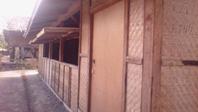 Dear Praying Friends, April 10, 2020
With the access most of you have to constant news, the story I am going to report will definitely stretch your imagination!
Beginning February 12th, Trina and I had no phone or internet connection in Baimuru. At that time China was the only country seriously impacted by the virus, and both the Australian officials and our American president were reassuring us that this was something that they were prepared for and could control.
By the middle of March, with no connection, we felt a trip to Port Moresby was in order, to take care of some online business and banking, to check on drums of fuel that had not been delivered, and to communicate. Also, as we will have been here in PNG two terms (eight years in September), this seemed like the time to arrange a furlough to the States to visit all of you! I could find out if the VA would supply new hearing aids, and need to renew my US driver's license. Plus, there was the added bonus of both our youngest son's wedding and the birth of a grandchild happening in 2020!
I do not really have words to describe the TOTAL SHOCK we felt on March 18th, arriving back into a place connected to the world, and seeing that the world had shut down! We got information, talked to family, prayed and purchased one way tickets in May – through a travel agent, and with an airline he recommended as one he felt would be good for giving a refund or travel voucher if needed. We spent only 5 days in the city, as during our visit, it was announced on a Sunday there was one confirmed case and that travel would be closed between provinces for 14 days beginning Tuesday. We are thankful our TTMK director, Matt Allen, was quick to inform us of the directive. For us that meant "get out of Dodge" or be stuck in the capital for at least two weeks. We left early Monday morning and travelled by road (using that term generously) 6 ½ hours to Kerema, a city in our own Gulf province where our dinghy could meet us for the trip home Tuesday.
When we returned to Baimuru, there was still no connection, but at least we were aware of the need to use the satellite phone weekly to get updates. We allowed our local government workers to use the phone also as they needed news and directives. We gave information to our community, talking to them about what was happening worldwide, about the virus itself, and how to best protect themselves and their families. Proverbs says a man's gift maketh room for him, and bringeth him before great men. The information we could give to our isolated community and the opportunity for communication was viewed as a gift, and it gave us many opportunities to witness to local officials and people in governmental positions. Please pray especially for Aua, our District Manager. He has had tea with me several times, and brought his wife by to meet us yesterday. He is desperately in need of the Saviour, but doesn't know it yet.
The week of April 6th, our Digicel phone service was restored, running at its usual speed of .5G, and we had an email from the travel agent saying the May flights had been cancelled. Fortunately, they are being refunded! Also, another confirmed case came up in one of the island provinces, and some suspected cases to our west. Our Prime Minister declared a State of Emergency for the next 60 days, however, how that will affect our life here is yet to be seen. The fact that no travel is allowed our direction from Western Province could be a BIG problem for us. You recall earlier in the letter I mentioned checking on drums of fuel? They were not delivered to the wharf in time to get on the barge that came to Baimuru in February. They were put on a barge shortly after we left Port Moresby in March, just in time to first be quarantined for 14 days, and then travelled to Western Province, where they may be stuck until the end of an epidemic. We use petrol and zoom (the mix for the dinghy engine) constantly. The dinghy is our means of transportation and evangelism. It is our only way to get to the villages in which our graduates are doing ministry. The petrol runs plenty of things, particularly the generator and the equipment that keeps the jungle from overtaking the mission ground. Please pray God will make a way for the barge to come to Baimuru soon!
Now, more important news! On March 8th, four more Baimurus were added into God's family! Eunice and her daughter, Sandra, Trisa (one of the teens) and a visitor from another village, a young man named Daniel! To see Eunice saved as a special blessing as she has been in and out of church since we arrived in Baimuru. God really spoke to her through a crisis in her marriage and a long illness. She came that day ready to repent and seek God's forgiveness. I also was blessed by an invitation this year to preach at the church building dedication of one of our 2016 graduates, Murphy Hokurape, in Harevavo village. The believers of Harevavo built it, and I am honored to celebrate with them!
As I close, let me say, it really was our desire to come on furlough and report to our friends and supporters this year. Perhaps God will still open up a way for that in 2020. Be praying with us, and please, if you have not, take time to view the report video, now posted on our website. It will give you a clear understanding of our ministry in Baimuru, and you can rejoice with us in the fruit of your giving and prayers!
1Th 2:17 But we, brethren, being taken from you for a short time in presence, not in heart, endeavoured the more abundantly to see your face with great desire.
(from Rom 15:22-24) For which cause also I have been much hindered from coming to you.
…I will come to you: for I trust to see you in my journey, and to be brought on my way thitherward by you, …