The 2019 graduation was AWESOME! The weather was dry. The food was abundant. The preaching was powerful and encouraging. Your prayers were answered!
People started arriving on Friday, the last group coming in two parts, due to a leaky canoe and a poorly running 15 hp engine! Trina fed the first half of these Harevavo folks, those that arrived at 10:30 pm.  The rest came in at two in the morning and were up at 5 starting to cook the morning meal! We had about 160 "out of towners" staying on the mission property!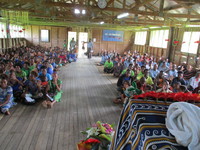 The graduation service was held Saturday morning. It was such a joy to honor these 6 who had faithfully finished their course of study. We also recognized 2016 graduate Richard Kimiri for completing a three year teaching internship here at Baimuru Baptist Bible Institute. Each couple receives a set of study materials upon graduation, including the Chronological Bible course they themselves completed and other study tools they have learned to use, like a Strong's concordance. I was blessed to see a lot of family members come from the graduates' villages to celebrate with them. There were gifts given, pictures taken, and happy tears shed!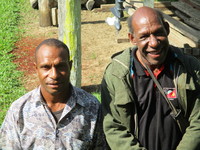 4 pigs were killed following the service and the afternoon was spent in fellowship and food. Revival type preaching began that evening and continued through Sunday. I had asked the 2016 grads to do the preaching, and was not one bit disappointed! I was so blessed by the growth and depth shown by those preachers. FOUR souls were saved: an older woman. Atea, from here in Baimuru Station; a magistrate, Evo'o, from Varia; Pele, a young woman from Harevavo, and Jeremiah, a youth from Varia. It was a special blessing to see folks saved from Varia as that is where one of our graduates, Benson Kairi, is heading to begin a church! Keep the other two in prayer (John Hailai, Ilaea Sone) as they are still seeking a clear direction from the Word concerning their place of service. John and his family will head back to their sending church in Huruta and serve alongside Pastor Maisa (2016 graduate) until God makes clear what direction they should go church planting among the Orokolo. Ilaea will do some surveying of the areas for which he is burdened during December.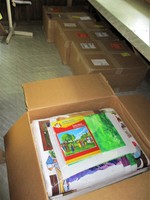 A special blessing to me was to be able to give three 2016 graduates a BIG gift. After seeing the students' response to teaching done with pictures and flannel graph, Trina and I have prayed for a way to get large sets of Betty Luken Bible felt in their hands. The company offers a discount to missionaries, but getting them shipped and into Baimuru tripled the price! But God made a way, and after we got them to Australia, God brought them freely from the land down under straight to our Baimuru veranda! This tool will be a fantastic asset to them all in their ministries.
I have been asked several times if I plan to "rest" now. I suppose there will be some time for rest and reflection …but also planning! The Gulf province is the largest of the PNG provinces. It is true that much of it is swamp and mountains. It is the least populated, and has little infrastructure. But there are PEOPLE here, and those people need a chance to hear and understand the saving gospel of Christ! I feel the most effective part I can have in that commission is training men and women to serve full time in ministry. God has been so gracious to let us give these last 6 years to training 15 for service. I am thrilled by the progress and faithfulness of the 2016 class, and pray the work done by this 2019 class will also be fruitful. With your continued prayers and support, I have no doubt it will be – and together we will see more workers sent into the harvest.