She's here!!!
 This baby was born on WIL'S BIRTHDAY!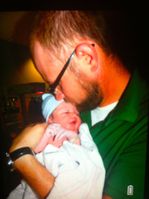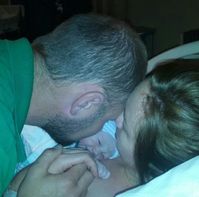 Jessie Grace Muldoon, our first grandchild, arrived the afternoon of April 2! She is the daughter of our son and daughter-in-law, Jesse and Katie. The whole birth process went well; how nice it was for Baby Jessie to let mommy sleep a bit and not need to go into the hospital until 8 am! She weighs 8 pounds and 11 ounces and is 21 inches long. She seems to have come with a good appetite too! Let me share with you three special blessings for us on the far-side of the world related to this glorious event!
1) Last night, Trina left on her Digicel PNG phone - why? She has no idea. We DO NOT get a Digicel signal here and the guesthouse internet is turned off at night! But somehow, this morning, she had received one email during the night from Jess, saying that he and Katie were headed to the hospital! This is not technically possible … but since we got this news, Wil knew to hike up to where we DO get a phone signal and call the kids!
2) We got to SEE our new grandchild on SKYPE!! What a blessing, not only that we were at the Kotidanga guesthouse, but that the internet was working well enough to allow us to visit with our US family!
3)This baby was born on WIL'S BIRTHDAY!! How kind of God to remind us He knows we are here and recognizes the fact that we are far removed from most of our family! We will always have a special connection with this little one!
God is Good!! Love you all and appreciate your prayers! We will share our first two pictures of Jessie Grace with this article - and try not to post TOO many in the future!