August 2010 Prayer Letter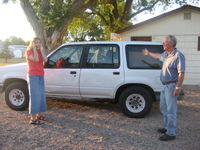 Dear Friends,

Folks, I know it has only been a month since you got our last newsletter. Nevertheless, God has moved quickly, precisely and absolutely! When God brought me to Cheyenne 16 years ago it was a gradual transition. However, this time He has put me in WARP DRIVE. Put your seat belt on and grab the arm rest and I will take off where I left off with the last newsletter.
July 16th – Previous letter sent.
July 19th - Praying early morning for my daughter Rachel in PNG – The Spirit of God moved me to go to their web site to read everything about the Allens so I could better pray for Rachel.
I discovered:
Matt Allen – Head missionary – had a conference and 22 different villages were represented and they all asked Matt to please bring the gospel to there Villages and Matt said he could not just yet because he was already spread to thin. That really broke my heart. I just could not live with that. They have never heard the gospel even one time! John Allen (Matt's Dad) – Went to linguistic school at Baptist Bible Translators Institute in Bowie, TX for 9 months before going to PNG.
Baptist Bible Translators Institute (BBTI) – I checked it out and said, "Where has this school been all my life?" I studied the school and said, "If the Lord ever sends me to the mission field this school is my very next step". After studying this school, I believe it should be required for every mission student who is going to work with another language.
July 20th - My wife and I decided to test the waters and send an application to the school knowing that we had at least another year since this school year started August 19th.
July 26th (or there about) – The director of BBTI called me and said that we should think about coming this year because there was an opening for one couple. I sensed that the Lord wanted me to start taking this more seriously. However, I was quite comfortable where I was. I was working with several new converts and was getting ready for our new year in Awana.
July 27th – A pastor in Blackfoot, ID who heard about my newsletter from another pastor close by had just turned over his church to another man called me and told me that he believed that God wanted him to come and take over our church. That is not coincidental!
July 28th – Fasted & Prayed over this matter of possible new direction in my life.
August 2nd – I decided to email Matt Allen and see if he could use a 61 year old man or if he was looking for young men and women fresh out of Bible College. I shared my burden of the 22 Villages and my resume to him. As I was writing to him the burden kept growing and growing.
August 3rd - 9th - I had heard nothing from Matt Allen and I did not have any scripture from the Lord. I cannot move without the Word. Circumstances alone are not enough.
August 9th - 11th – Fasted & Prayed for specific direction from The Lord.
August 9th – Rachel called me about another matter of needing some more paper work for her 1 year visa. I asked if Matt said anything about my email and she said no.
August 10th – Matt emailed me and said Rachel talked to him and he did not get my email. ( Ole slough foot – Satan is at work). I sent another email to an address that he gave me.
August 10th – Matt emailed me back at noon and said that he was excited that I was burdened over the 22 villages and said he would rather have someone with my age and experience to come and hit the ground running and go into the bush and bring the gospel to these people . He said, "Please come and help us!" God started giving some scripture now.
August 10th – The Lord impressed me to counsel with some Godly men he gave me. They all gave me the green light to go - that this is the time.
August 10th – 10 p.m. spent much time in prayer and The Lord started giving me lots of scripture to go to PNG. His last verses were in Joshua 3: He impressed me take all 16 years of your teaching in this church and put them together and be like the priests with the Ark, Step into the water of faith and trust me to divide the waters and provide your needs to go to PNG. He also impressed me to resign the church the next night and make Sunday morning my last preaching service and turn the church over to this man that I have coming in. I was lead to be in that school on the 19th.
August 11th – Resigned my church and made Sunday my last day and my last pay check. We had just the sweetest service and many of the people God had already spoke to them in their devotions that I was leaving. They were very happy that God called me to the foreign field.
August 13th -14th – Had garage sale and sold all my possessions except what would we could haul in the back of a Ford explorer.
August 15th – My last morning preaching and I turned it over to new preacher Sunday night. They voted to be my sending church and took me on for $100 per month plus they want to keep paying my life insurance that I have for Trina & I for $151.67. That is just AWESOME!