July 2019 Newsletter
We are on the July term break. Not my favorite as it pours most days, and travel can only be done on the small back waters. The sea is too rough this season, and our airstrip is a muddy mess. Fortunately, work can be accomplished in the rain! This term break is a great time to catch up on repairs of the 12 buildings and maintaining the 15 acres on which the Bible school operates. It is certainly clear which drainage ditches are working, and which need cleaned! Most of the students are out on this term break evangelizing. But, this break does announce that we are half way through this last year of training for these students, and we are looking forward to November's graduation! Please be praying that God would lead each family to exactly the right place of ministry.
No pictures or letterhead this time. Trying to send from Baimuru, so I will be grateful to get you an email! We are very thankful for the SAT phone God provided – and God used it to open a preaching opportunity! After our local Digicel service had been out a couple of weeks, some men from a neighboring village came to ask if the SAT phone could be used to confirm the transport of a dead body to their village for burial; they wanted to be prepared for the "haus krai." I had a wonderful chance to share the gospel. The only church in their village is Seventh Day Adventist. In this country, this church heavily mixes the need to keep the law with the hope of obtaining heaven.  They listened with attention, so I asked if we might come and preach more clearly to the village. The men agreed, one of them being the village counsel. As soon as the students return from term break, we will follow up!
In the month of June, Pastor Danny (2016 graduate) began meeting with the youth on Saturday mornings. I was thrilled! They had 11 at the first meeting, and subsequent meetings have increased in attendance. Pastor and Richard use the hour to sing, play a game, and preach. We are preparing to take the youth on a short mission trip to one of our Orokolo graduates in September. Pray for the youth of Baimuru Baptist Church! Four of them are in the New Convert's Class! During this term break Pastor Maisa (2016 graduate) took from Huruta a group of 25 young people to a youth rally in Port Moresby. 4 were saved and 3 surrendered to full time service for the Lord! In Harevavo, Pastor Murphy (2016 graduate) held a two day youth meeting. 71 young people attended. He was so burdened by the many lives ruined by premarital sex that he taught on dating, courtship, and marriage! Three were saved the first day, and two more the second!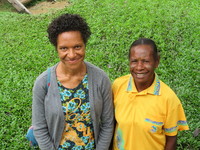 Seeing the Spirit of God at work in making a new creature out of someone is wonderful, so one more story. A few weeks ago in the Ladies' Bible Study, Grace gave a testimony. She was very excited about her God, particularly in the fact that someone she considered an enemy was experiencing suffering. She was certain God was judging him, and she was thoroughly rejoicing! Trina walked her home afterward, and they looked at some Scriptures together, ones like: "Rejoice not when thine enemy falleth, and let not thine heart be glad when he stumbleth:" Grace felt very badly that she had so blatantly, though in ignorance, went against God's principles for dealing with people that have wronged you. She quickly recognized her sin and sought God's forgiveness. She has instead been praying for this man. Then, she did something else that surprised us. At the end of the next ladies' Bible study, she asked to share something. She asked forgiveness for giving the wrong kind of testimony. No one had ever suggested this to her – just the Spirit of God. It is such an encouragement to be reminded of the powerful and promised work of the Spirit in a believer. The Holy Spirit is still in the business of making all things new!
Thank you for your faithful prayers and support!
Presenting the Person of Christ,
Wil and Trina Muldoon