Baimuru Blessings!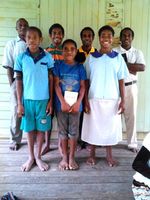 Although we travel quite a bit to villages in the Baimuru and Orokolo areas, Baimuru Station is the location of our "home" – and some definite improvements have been made to the house and property since our initial set of pictures was posted! We were blessed to have our daughter Rachel, and her husband Andrew, spend just over two weeks with us in July, tackling all kinds of projects with very limited tools! We had a lot of fun with them too, and took Rach on her first dinghy ride! There are a variety of pictures below, including plants in our yard and the application of the logo and identification to the dinghy! Perhaps the BEST picture is the one of Pastor Danny and six souls that were saved one Sunday morning! Below is Trina's "story" about that …
True confessions from a missionary:
I had asked Wil what he thought about having Pastor Danny and family over in the evening to watch a DVD Henry Morris narrates called "God of Glory" - beautiful cinematography; wonderful message of creation and salvation.
Anyway, as the day wore on, I came up with numerous reasons NOT to do it.  Didn't want to make friends and be hospitable, the English would be too hard, too much popcorn supply used up … Well, God won and I thought it was a battle about hospitality.
When we started the flick I felt strongly impressed to rebuke Satan and resist him - He has to flee, you know :-)  I thought that had to do with the fact our Mac has been acting psyco, starting and stopping on its own.
We storied about the message afterwards and, it turns out 3 of those boys couldn't sleep, being under conviction about being lost! They received Christ today - along with 3 others.
Don't underestimate the importance of obeying!   Win!
Image Gallery