Every Sunday to Ipaiyu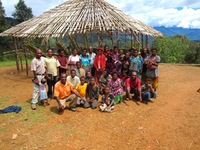 I have had the great privilege of going to the village of Ipaiyu with John Allen and 3 Bible School Students (Ben, Nathaniel, and John) to observe how the Chronological Teaching is done in the bush. I have learned so much about culture and Pidgin language from these guys. I also have learned much about these students and their families. God has given me a special love for these guys and the village people. John, one of the students, lives in Ipaiyu and we meet at his house and sit on his veranda. The church is being built right beside his house. I took one Sunday a couple weeks ago to take pictures from the time we left until we got back. I certainly don't want to bore you with all 107 shots that I took. Here are some pics that show you the trail we take and the village of Ipaiyu. Ipaiyu is pronounced like this - ee-pie-you.
 I just love The Chronological Teaching
This is a new church plant that Matt & Becky Allen were invited to start. Matt taught for about 3 or 4 months with the chronological teaching and then brought the gospel out just before he went on furlough. Several got saved!!! Then Matt turned it over to his dad John till he went on furlough and the 3 preachers took on their own for several months till John got back. Now presently, John and the 3 preacher boys are doing it with me tagging along for a few months till I get to go to Ihu. I trust the pictures will give you an appreciation for these people and a burden to pray for this young and remote work. If you walk it from our apartment, it is 3 hours one way. Usually, we take a Kawasaki mule 45 minutes to Kanebea (the airstrip where Matt keeps and flies his plane) and walk to Ipaiyu which is about an hour to an hour and a half depending on weather with three rivers to cross. I have treasured every single moment with John and the students. It has been a thrill to watch John work with these students winning a couple young men to the Lord. I just love the Chronological Teaching. I believe it is the only way to go here in the bush. I have been in Home Missions for 25 years and just pastored a church for 16 years and I wish I would have taught it in America because it would have solved many problems that I had to deal with.
It has been a real privilege to work along side the TTMK Team that is here. I have learned much in 3 months! Matt is more than my boss - he is my good friend! John is closer than a brother! Please pray for the team here: Matt & Becky Allen and two daughters (Ariel and Hannah), John & Selina Allen, Andrew & Rachel Schellenberger, Sarah Glover, Jason & Cherith & baby Grace Ottesen and especially Pastor James Naudi, our pastor at Kotidanga and becoming a good friend. Additional team members desiring to be here next year are The Florences, The Gillispies, and The Shells. …….Enjoy the Pics!!!
Image Gallery