Huruta Revival Rally!!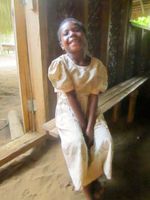 Huruta Revival Rally November 8-10 2013
WOW!!  How wonderful it is when God himself comes to a revival meeting!! We just had the most exceptional time in the village of Huruta. Wil preached Friday night, Saturday morning and evening, and Sunday morning and night.  We saw 14 professions of faith among the adults and teens, including a village counsel and his wife, and Pastor Maisa's oldest son, Mark!  8 were baptized Sunday afternoon, and as Pastor Maisa was ill, Wil had the awesome privilege of doing the baptizing! We would like to share one story and 2 testimonies from this weekend with you:
The rain …You know that we live in a tropical rain forest, and we were actually a bit concerned about the meetings Pastor Maisa wanted to hold outside as it had rained every day in the previous month! Our traveling weather turned out terrific, and we never got soaked in the dinghy! That first Friday night we were meeting inside the church – and it absolutely poured outside! Saturday morning at market preaching – no rain. Saturday night, Pastor wanted to meet outside. As the men were setting up benches and laying down tarps, Trina asked Matthew, "So, Matthew, do you think it will rain tonight? He replied without any hesitation, "No. God is in control of the rain and He wants us to meet outside!" And it did NOT rain!  Sunday morning, we were meeting in the church and, guess what happened.  Once everyone was inside for the preaching, the rain came – but Sunday night, when we met outside, God kept us all comfortable and dry! It probably shows me as one of "little faith", but I just saw this as an amazing testimony to our Lord – the One that even the winds and seas obey!
Ikai's testimony:
In the last few months I have heard Pastor Maisa preach at the market four different times. Each time I have heard the Word he spoke, I felt dirty, like I was stealing something or hiding something. I knew that my soul was not clean. I would go and ask a friend or relative of mine what I should do. Each one told me to go speak to Pastor or his wife, or even one of the church members – but every time I was too afraid or ashamed. This Saturday the missionary preached in the market, and right after, Brother John, (a church member) invited us to the meeting that night, saying that their missionary would be preaching outside. I came and when I heard the missionary preach about Hell, I knew two things: that if I had died the week before, I would have "opened my eyes" in Hell, just like the rich man. And too, I heard that God had not really made Hell for me, but for the devil and his evil spirits! This night was my chance to escape to God, so at the end I lifted my hand so someone could show me how Jesus could clean me. I am so thankful for the gift of eternal life that Jesus bought for me with His blood.
Mary's testimony:
Since my father started coming to this church a few years ago, we have all been coming. Before we went to the Catholic Church. I have listened to the preaching here a long time, and many times thought to respond to an invitation pastor would give to receive Christ, but something just kept my hand down and me in my seat. The preaching of the last two nights broke my heart, and this morning, when I heard the preaching about Judas, I knew I could not pretend to be a Christian any longer. It is not good to be an actor!
Thank you for your prayers and giving that make it possible for us to be here!
Wil and Trina Muldoon
Image Gallery